by Amanda Palmer, The Pajama Company Editor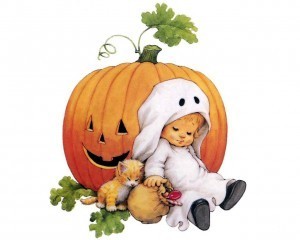 I remember the excitement I felt as a child for Halloween. Nothing was better than dressing up as my favorite monster, hero, or even a notable character and running around the neighborhood overflowing with excitement. Knocking on each door, I would wonder what treat or trick was behind the door.
Here at The Pajama Company we embrace Halloween. We even have ideas to transform your pajamas into costumes. In fact, we believe pajamas will make your halloween even better. While everyone else is getting chilled in the autumn night air you will be cozy and snug trick-or-treating in your jammies. Here are a few of my ideas for how to make your Halloween a pajama night.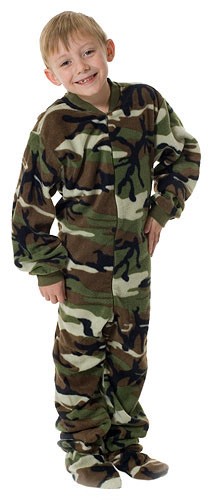 1.  Duck Dynasty Star - This is easy. All you need to do is wear our Big Feet Pajamas Green Camouflage Fleece One Piece Footy, a bandanna, fake beard and you are ready for duck hunting Jack!
2. Black Cat – Ladies, just put on our Black Velour Footy Pant and Matching Long Sleeve Tee, pair it with kitty ears and a tail.Draw on some whiskers and black nose with an eye liner pencil and you have a purrrfectly comfortable costume!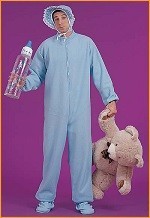 3. Big Baby -  As you can see this costume is good for guys but could also work for women. All you need is a pair of our Big Feet Pajamas, a gag pacifier/bottle, teddy bear, and a bonnet and you are ready to coo your way to any Halloween Party!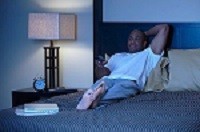 4. Couch Potato – I suggest our Lazy One "Dog Tired" Cotton Pajama Pant for this one, add a tee shirt, and a remote and you will be the boss of the couch!
There you go, four easy and simple costumes you can throw together at last minute.
Now, if you still need some more ideas. Here are a few of our classic ideas from last year.
1. Our Cupcake pajamas plus a tray of cupcakes and a crown makes you the Cupcake Queen.
2. Put on flannel pajamas and glasses, carry a laptop and you're a Blogger.
3. Pair our famous "Sushi" pajama with a chefs hat and you are a Sushi Chef.
4. White footies and a gold crown makes you Max from Where The Wild Things Are.
We just gave you 8 simple ways to put together a fun and affordable Halloween costume. The best part  is when the trick-or-treating is over, you will be ready for a nice quiet evening watching scary movies on the couch. There is nothing better than multi-tasking to enjoy a fun night!
I hope we have inspired you to take a second look at your nightwear for a hauntingly good nightmarish costume!